Instead of a vacation this spring, how about learn to make the rest of your LIFE a vacation
at this once-in-a-lifetime Retreat in April, 2105?
From the Desk of Brian Fanale
If you're the type of person who knows it's your time to break free, and you're ready to take a stand and finally get the results you and your family deserve... what I'm about to share with you will be the most important story you will ever read.
Look, I know what you're going through and I feel your pain. You've spent countless hours on training webinars and conference calls, you've bought enough info-products and courses to fill a high-school library, and you've put more energy towards building your business than you have put towards your family lately...
AND YOU'RE STILL NOT GETTING RESULTS!
And if you're anything like me before I learned the secret, you've been constantly replaying this plaguing question inside your head for years: "What's wrong with me, and why can't I make money like the "gurus" I see online and the top earners I see on stage?!?"
It's this constant, nagging, draining question that keeps 95% of network marketers broke. Luckily for you, a small group of elite entrepreneurs, all 6 and 7-Figure income earners, have figured out the answer to this detrimental question, and it's time you learn the truth.
But first, let's take a little trip down memory lane...
It was early 2005, and I just joined my first ever network marketing company not knowing anything about networking or marketing. But boy was I pumped!
I was going to make all the money in the world so fast, I was going to buy the cars, the houses, the vacations, help my friends and family out, give back to charities, EVERYTHING.
It didn't happen exactly as planned.
I found this industry through a tiny little google ppc advertisement, so that's the form of marketing I wanted to learn first. My sponsor referred me to a google adwords training book, which I purchased immediately, devoured, and implemented.
I spent roughly 3 straight weeks of on average 14 hours days setting up accounts with tens of thousands of keywords and hundreds of ads, and I was ready to rock!
The result: about $3,000 in credit card debt to max out my ONLY credit card at the time with ZERO results to show for it. (keep in mind that I'm 23 at the time making less than $2,000 per month as a bartender and broke musician).
My sponsor at the time was making about $60,000 per month, and very hard to get on the phone.... I begged, pleaded, and annoyed him until he finally agreed to give me 5 minutes and take a look at my adwords account to see if he could tell what I was doing wrong.
I gave him my adwords login and within a 5 minute conversation on the phone, he was able to shift one little thing in my entire adwords approach, and overnight I started getting 20+ laser-targeted BUYERS to my websites, and I started building my first organization in the network marketing arena.
How did that happen?
It was access... He was my part of my new mastermind group and 5 minutes was all I needed on the phone with him.
Let's move forward to circa mid-2007...
I still hadn't yet turned a profit with my business, and yet I dropped $8,000 to get to a seminar that I couldn't afford because my sponsor told me I had to be there.
Now I was making sales and signing up distributors at this point, but I still wasn't even close to breaking even after working for over 2 years of literally 60-80+ hour weeks on my business.
With the tiny team I had acquired, I didn't quite understand how to inspire and motivate them to take action.
I was hand-holding my new reps, answering all their questions, and enabling them to count on me for answers they could have easily gotten from a million other sources without needing my assistance.
I remember it getting so bad at one point because I wanted success for my team probably more than they wanted success for themselves, that days would go by where I was on the phone 1 on 1 with my team, hand-holding, attending to support questions, and dealing with their problems instead of acting as their leader and taking my business to the next level.
While at this $8,000 conference, I was able to hang out "behind-the-scenes" with guys and gals who were consistently pulling in over $100,000 PER MONTH with their businesses, and I knew that I had to take advantage of this situation and soak up as much knowledge from these rockstars as humanly possible.
And that's exactly what I did...
I proceeded to go around the room and ask every single top earner their biggest secrets to building leaders and fostering an army of warriors that take action instead of a team of children who complain all day... this was the problem I was seeing in my business.
I got their answers, and it drastically changed how I approached team building, duplication, and building leaders within my organization.
60 days following this conference, my team had made more sales than in the previous 2 years combined.
How did this happen?
It was access...
I was able to spend just 30 minutes getting my personal questions answered by my new mastermind group of a handful of 6 and 7-Figure earners.
Let's move forward one more time to early 2008...
Now here's the probably the most pivotal point in my entire career, and it happened at a live event (go figure). In 2008 I picked up a course by Mike Dillard called "Magnetic Sponsoring."
For the first time ever I am now learning about this whole "attraction marketing concept," leading with value, building relationships first, funded proposals, multiple income streams, and it shifted forever how I saw and approached my business... and I could feel something big was right around the corner.
Everything started making sense. It was like the blinds had been lifted and I finally understood what the "gurus" were keeping from me.
I rapidly started learning about creating my own websites, using dreamweaver, html, ftp, creating my own sales funnels, bootcamps, EVERYTHING, and it was all focused around this new concept of attraction marketing.
And before I flipped the switch and turned all of my marketing over to test if this "attraction marketing" thing was going to work for me, I had to hop on a plane to head to yet another company event.
Guess who was there? Mike Dillard!
Guess who I sought out the entire weekend? Mike Dillard!
Guess who was able to ask him just a few questions inside a tiny 3-minute window before we were interrupted and he got bombarded by other Dillard fans? BINGO... ME :)
And do you know what happened in that brief 3 minute conversation with a leader that would go on to change the course of my life forever?
It was 1-on-1 access & 1-on-1 attention...
He gave me answers to my specific questions that I personally needed to hear for were I was at in my business for my next big breakthrough...
I got home and turned on my marketing embracing attraction marketing for the first time, and...
I HAD MY VERY FIRST MONTH OF PROFIT...
It wasn't $100 bucks... It wasn't $500 bucks... It wasn't $1,000...
IT WAS $30,000 IN PROFIT IN 30 DAYS!
(FYI: the full 3 years prior in this industry I had wound up about $30,000 in debt)
And fast-forward a few months, I meet Todd and Norbert at a live event, MLSP is born, and the rest as they say is history.
How did this happen?
It was access...
Mike via Magnetic Sponsoring and Traffic Formula 1 was now a part of my new mastermind group even though I had not met him yet... he was a 7-Figure Earner... And just 3 minutes of it with Mike changed my life forever.
When I look back, 3 of the most pivotal moments in my life and financial career, after now having built a multi-million dollar business, boils down to just one thing...
ONE-ON-ONE ACCESS TO A PRIVATE MASTERMIND OF ENTREPRENEURS WHERE I GOT MY PERSONAL QUESTIONS ANSWERED!
It was ACCESS to someone, if even for only a matter of minutes, to an expert who could answer my personal questions... the questions I needed answered for me at that specific point in my business.
* Did they give me the underground, magic-pill, google lead generation tool? Not exactly
* Did they hand me their bullet-proof, time-tested, team building strategy? Not quite
* Did they toss over to me the #1 hidden secret to making attraction marketing work? Not really
THEY GAVE ME EXACTLY WHAT I NEEDED TO HEAR!
NOTHING MORE, NOTHING LESS.
It was this ACCESS that shifted my entire life and perception of the problems I was facing.
And it was just a 1 degree shift in each of the stories above... How powerful can a 1 degree shift be to your life and your business?
*** AT 211 DEGREES, WATER IS HOT... AT 212 DEGREES WATER BOILS... AND STEAM FROM BOILING WATER CAN POWER A LOCOMOTIVE FROM SAN FRANCISCO TO NEW YORK... A 1 DEGREE DIFFERENCE ***
We are human after all, and if you're like me, then you're a very "hands-on" visual learner who at times requires 1-on-1 attention...
For example, have you even been on a webinar and you understood the content, but you just wished you could have 10 minutes with the trainer so you could ask some loose-end questions that are coming up for you? Just a little 1-on-1 attention for you personally and then you could go take on the world?!
I KNOW EXACTLY HOW YOU FEEL!
It is because of this ONE-ON-ONE access I continually sought out over the last 10 years (and will continue to seek out) that have made me wealthy beyond my wildest dreams... it was the power of a mastermind... and it was the one-on-one attention that I received that got me where I am today.
And now I've BROKEN FREE!
And YOU deserve to have these experiences, don't you?!
In the above story, I shared 3 experiences that added up to less than 39 minutes...
Yet I attribute the MILLIONS OF DOLLARS that I have earned over the last 7 years to those 39 minutes!
So here's my question to you brave warrior...
What if I gave you 39 minutes with 6 and 7-Figure earners so that you could have similar life-changing experiences where you got ONE-ON-ONE attention, and you were able to get YOUR questions answered so you could get the solutions to YOUR specific problems just like I have been doing since 2005?!
Instead of 39 minutes of a life-altering experience like this, how about a complete and transformational 3-Full-Day Retreat where you get to corner some of the brightest minds in our industry, we work on your specific marketing funnel, and we get all of YOUR questions asked?!
IT'S CALLED TOTAL IMMERSION...
TOTAL ONE-ON-ONE ACCESS...
YOU GET YOUR SPECIFIC QUESTIONS ANSWERED...
THIS IS YOUR WORLD-CLASS 'HANDS-ON' MASTERMIND TEAM FOR THE NEXT 72 HOURS THAT WILL ALTER THE REST OF YOUR LIFE...
Introducing, for 2016,

WHAT IS THE MLSP PRIVATE MASTERMIND RETREAT?
The MLSP Retreat is essentially like taking the best surgeons on the planet and having them perform every massive surgery you can think of on a human being to engineer the most super-human bad-ass super hero ever built... one that is indestructible, never sleeps, and works for you 24x7!
This is exactly what we're going to do to your marketing blueprint, websites, sales funnels, videos, copywriting, increasing conversions, blogs, analytics, recruiting, team building, leadership, awaken the all-powerful Leader that is sleeping inside of you, EVERYTHING!
The one-on-one access, the masterminding, and the potential JV partners you will meet is EXACTLY what will help you finally break free!!! This type of experience and access is the ONLY reason you're even here reading this letter because without this type of experience, I wouldn't be here!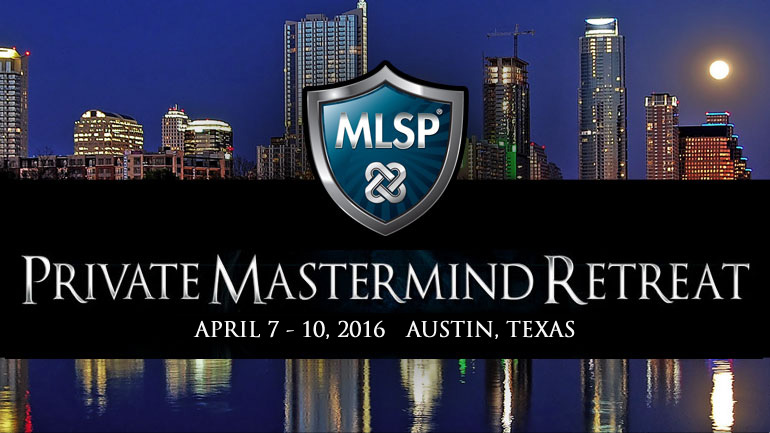 BRING YOUR CAMERAS, SMART PHONES, CAMCORDERS, AND ANY OTHER RECORDING DEVICE!
THE SCHEDULE
BUILD YOUR BLOG & BRAND
SITES: the #1 blog solution on the internet to help YOU get your wordpress blog online, and ready to get you leads in 24 hours or less! We are going to help you develop your Blog, your voice, & your brand by discovering your PASSION! Then we will uncover WHO you are going to be to that marketplace, and who you are going to serve. Your blog will be set-up and ready for monetization well before the 3rd day, and it will have been created alongside 6 & 7-Figure marketers. Chances are you may be able to get a blog header designed by MLSP's creative director while you're at the retreat!
CONTENT CREATION for YOUR BUSINESS
Your blog will be up and ready for visitors, now what? We're going to dig into 'content creation' in a way where you never run out of quality content ideas that serves your target market! You will have some of the best marketers looking over your shoulder as you create your brand & blog, and we are going to help you with every piece of content creation so that you're not just blogging for fun... but you're blogging with a purpose and for PROFITS and LEADS! Many marketers miss this step and wonder why their Blog isn't making them money... you won't have that problem anymore.
FUNNELIZER SALES LETTERS
We always start with the end in mind: so what are you selling? What is your offer? Are you wanting to create your own offers, or use your company or MLSP offers? Whatever your business looks like, you have a product, offer, or service to share with the world or you wouldn't be in business! MLSP's FUNNELIZER is your weapon, and you will learn the in's and out's of creating high-converting sales letters from one of the highest paid copywriters online. You will learn the deadly art of persuasion, and how to tap into your prospect's unconscious mind (where the buying decision happens), and get them to TAKE ACTION and BUY YOUR STUFF!
FUNNELIZER CAPTURE PAGES, OFFERS, & LEAD MAGNETS to GET LEADS
Now that you are clear on the offers you want to bring to the world, how are you going to capture your prospect's e-mail address and get them in front of your offers? MLSP has some of this highest converting capture pages in the industry, and we're going to go deep into the anatomy of what makes a capture page & lead magnet highly effective. There are trigger words that can make or break your conversions, and headlines that yield a 30%+ conversion rate from visitor to lead. We're going to show you EVERYTHING we know about building a multi-million dollar business that has generated 2.96MILLION leads (yes, our capture pages work!)
TRAFFIC & LEAD GENERATION
Once your blog, sales funnels, offers, and websites are set up it's time for TRAFFIC and LEAD-GENERATION! We'll have some lead-generation specialists joining us at this retreat, and you will leave the retreat with ads physically in place (and chances are you will generate leads while at the retreat). If it's getting us leads, we'll be teaching it to you including traffic sources like FaceBook, YouTube, Blogging, Instagram, e-mail marketing, PPC, PPV, SEO, and anything else that's working for us when it's retreat time in April 2016! You want leads, and we're going to bring you the best of the best in lead-generation.
CRM FOLLOW-UP & CLOSING
MLSP's proprietary & state of the art CRM (customer relationship manager) is an absolute goldmine for any business owner. We're going to show you the most effective ways to leverage the MLSP CRM to close sales, a tool most fortune 500 companies would envy, and we're going to go deep into how to follow-up like a professional business owner to crush sales in YOUR business. I'm sure you've heard the statement 'the fortune is in the follow-up'... isn't it time you start creating a fortune with your follow-up? We'll have some of the best closers in the game today as speakers at this retreat.
OVERALL BUSINESS & MONETIZATION STRATEGY (6-Figure+ Blueprint)
You have to be making at least multiple 6-figures in your business to speak at the MLSP retreat... and the MLSP business itself has generated TENS of millions of dollars in revenue! We're going to give you EVERYTHING we know about building a successful online business. You will walk away with a winning blueprint that you know will work for YOU, you will learn the ONE monetization question that has made us more money than anything else (we're talking MILLIONS of dollars in PROFIT) so you can apply it in YOUR business immediately, and finally this 'online home business' thing will become REAL for YOU!
DEEP INNER MINDSET WORK, MIND-BENDING EXERCISES, & MEDITATION
YOU have to change if you want different results, and you will walk out of this retreat a different person (literally). This retreat is going to challenge you at your deepest core including patterns, beliefs, thoughts, and programs you have been running for years that are NOT serving you. You will participate in some mind-bending exercises and sometimes 'uncomfortable' experiences that will break you down and force you to step into your own greatness (THIS IS OUR FAVORITE PART!). And you will eliminate all of the unconscious barriers you have created in your mind that are holding you back, most of which you don't even realize exist.
Thursday, April 7th
Arrival is in the evening and we'll have a meet & greet so you can get to know your mastermind attendees and speakers! You're about to share an intense 3-day life-altering experience with this very intimate group of entrepreneurs, and the bonds, business relationships, and potential JV partnerships and lifelong friendships that form from this retreat will be priceless.
Friday, April 8th
All-Day Workshop and intimate breakout sessions.
* In the past, these training days have been known to go past 2 AM... talk about a POWERFUL MASTERMIND!
Saturday, April 9th
Continued from Friday... More intense training all day!
* In the past, these training days have been known to go past 2 AM... talk about a POWERFUL MASTERMIND!
Sunday, April 10th
All-Day Workshop and intimate breakout sessions - videos, hands-on, 1-on-1 time, whatever YOU want & need!
Monday, April 11th
Check-out in the morning. Please plan flights accordingly
* Make sure you book your flight for MONDAY (not Sunday) because you want to experience ALL of Sunday... trust us ;)
IMPORTANT DISCLAIMERS
At our last retreat, on both days, we had masterminds going until 2AM and beyond... it was incredible, hands-on training where we answered our attendees questions and the experience was nothing short of life-changing!
In the last 18 months we have released MLSP SITES (the premiere blogging platform), a CRM (customer relationship manager), and FUNNELIZER (a complete funnel creating software with no tech-skills required) to the world! You will get hands-on training to master all 3 of these softwares so you can finally acquire the skills to build the long-term, stable business of your dreams… this retreat is about HELPING YOU CREATE YOUR BUSINESS (AND LIFE) BY DESIGN, AND YOU WILL SUCCEED!
When we say there will be "Challenging Mindset Experiences" we mean it! Int the past, we have had attendees walk on glass, real arrows broken with their necks, light old habits on fire (literally)... you will walk away from the is retreat an entirely different person, you will drop the baggage that is holding you back, and you will step up and awaken the leader that is sleeping inside of you!
MIND-ALTERING EXPERIENCES

IF you want additional social proof to see if the MLSP Private Mastermind Retreat is right for you, or if it's worth it to INVEST IN YOURSELF and COME TO THIS RETREAT, feel free to see what happened at our mastermind retreat in Cancun, Mexico...